Browse:
Home
/
pixelflowers
By pixelflowers on 2022/05/02
As Pixelflowers we always perform live, making visuals primarily for techno dancefloors. Admittely, we have been keeping very little documentation of our past shows: at these dance parties most people refrain to take photos and videos (it's frown upon here in Berlin, often actually forbidden, and for good reasons we think; we have learnt ourselves […]
By pixelflowers on 2022/03/16
Last Tuesday we supported two live concerts (Rtalin and Evripidis and His Tragedies) and a DJ set by Daddies On Acid at the underground club Loophole, the same small, dirty lovely venue where a couple of years ago we gave our very first live VJ performance. Then on Saturday we made live visuals at our […]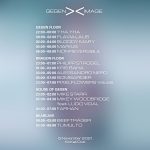 By pixelflowers on 2021/11/08
While Autumn gets colder and darker, more and more pixel flowers blossom! A few months ago, the Berlin-based producer and DJ Exildiscount committed us our first music video, and we are now working on a second one for another music act. We've still been streaming every Wednesday for the Daddies On Acid and Interzone parties, […]
By pixelflowers on 2021/11/08
Here's the music video we made for Exildiscount's track "Going to Bed Hungry", taken from their EP "Next Big Thing", released on June 11, 2021 via Unboxing Shadows (UXS001). The title "Going to Bed Hungry" refers to an art performance/video installation by Exildiscount, which was simultaneously video taped from 3 camera perspectives, called "Of the […]
Posted in Video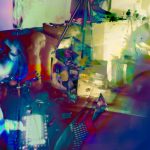 By pixelflowers on 2021/09/09
While we continue our weekly livestreamings in a collaboration with the Berlin-based queer parties Interzone and Daddies On Acid, in the last months we also got back to performing live. Pixelflowers is a VJing duo and ideally we make live visuals together, but this week-end we will split across the continent, in order to spread our […]
By pixelflowers on 2021/06/01
scanlines.xyz, an online forum and website devoted to audio/video DIY projects we're actively involved in, recently got 1 year old. A community online showcase was organized to celebrate and since it was going to take place on 4/20, we decided to play around the coincidence and created this smoky video.
Posted in Video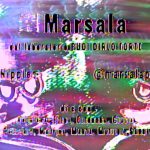 By pixelflowers on 2021/05/27
In 2017, the participants in the PUOI DIRLO FORTE workshop, organized by Marsala and Silvia Torri and focused on disrupting gender violence and its toxic narratives, created the short video Phantom Bra. Il primo reggiseno per tette libere e fantasmagoriche. On occasion of 2021, March 8, we reworked visually Phantom Bra and included it in […]
Posted in Video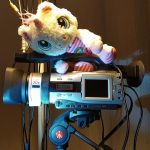 By pixelflowers on 2021/03/27
For a few weeks we've been playing with a new (old) toy: a Canon XM2 camcorder. We don't have any tapes at the moment, but we're using the camera together with two 14″ TVs (found on the street) to rescan and to create video feedback loops. The camcorder has controls for the image quality and […]
Posted in Equipment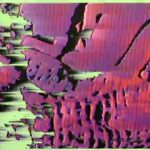 By pixelflowers on 2021/03/17
Posted in General
By pixelflowers on 2021/01/18
Here's the 20′ video we created for Ephemeris Time, an end-of-the-year collective audio visual show organized at scanlines.xyz. Read more about its content, soundtrack, etc.
Posted in Video